Hide
Get a free print subscription to the Arkansas Times with the purchase of an annual Digital Subscription – PLUS two free tickets to the Little Rock Zoo!
The monthly Arkansas Times Magazine is a beautiful, glossy magazine that tells the story of Arkansas through its people, food, music, politics and history. You will receive it every month in the mail along with two free tickets to the Little Rock Zoo when you support the Times through your annual digital subscription to ArkTimes.com and the Arkansas Blog.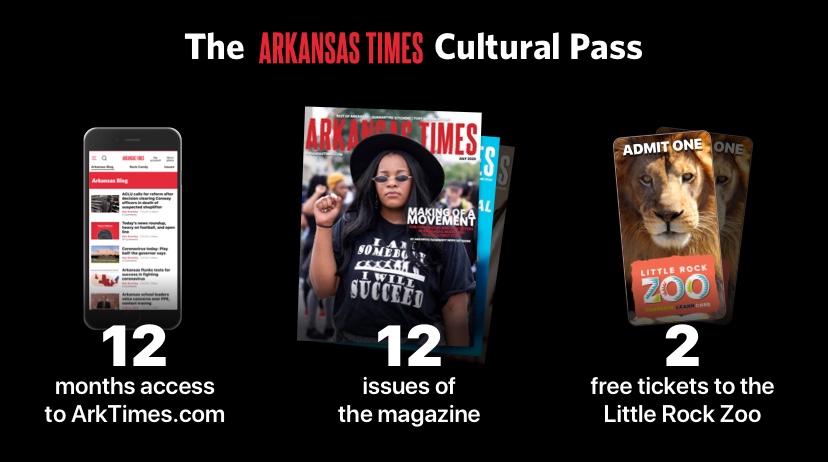 Already subscribed?
Take advantage of the deal now and the extra time will be tacked onto your existing subscription.
Surveying the line at downtown Little Rock's popular new donut shop.
Brenda's turns out the freshest in town.
With your help, we will get through this
Our small newsroom has been working tirelessly to report on the latest coronavirus developments along with all the other news that matters. Please support us with a cash gift.
A pitmaster with a cult following prepares to move his joint across the street — and into another state.
It's time again to cast votes in the state's longest-running annual assessment of the best places to eat in Arkansas.
The cupcake queen dishes on the trials and triumphs of turning her family's old cake recipes into cupcakes and more.
Fleming Stockton talks about his early days of veganism (!), flipping burgers, serving political celebrities during the Clinton campaign days and much more.
The celebrated local chef tackles the 223-mile Ouachita Trail to raise awareness and money for Potluck Food Rescue of Arkansas.